I'll be laying to bed my "Against The Grain" column & now replacing it with a "Devil's Advocate" take on the hottest pick of the day that will be known as a Hot Pick Advisory. Essentially, the player will be "chosen" for me & even if I'm also picking him for the given day, this advisory will exist to present a scenario of what could wrong & why. So in this first instance, we have a red hot rookie in Jayson Tatum. Firstly, never trust a guy that spells his first name that way; I'm sure Tangent would agree :) But in all reality, Tatum has played great in both the regular season & the playoffs, but I've got a few reservations here for Game 1.
It's my thinking that Robert Covington will be on Tatum quite a bit in this matchup & he's known to be a pretty great defender. Also, there's even more "pressure" on Tatum to be productive with Jaylen Brown doubtful to play in this game. Sure that can sometimes equate to more stats, but it may also lead to Jayson forcing some offense that may be preventative of getting in a natural rhythm. Additionally, this series will be much tougher for the Celtics as a team than that of the previous round against the Bucks. Not that Tatum isn't tough, but the two Marcus's are tough as nails & may get a lot of run in this one for the intensity & experience they bring to a series like this. Obviously, with this being the first game of the series, we have no idea how the matchups & rotations are going to look, but I think the Celtics guards are going to NEED to be productive because the Sixers are going to eat the Celtics big men alive. That's why, for my money, I think Marcus Smart (possibly starting) or Terry Rozier are the wiser options, particularly if Brown is out for this one.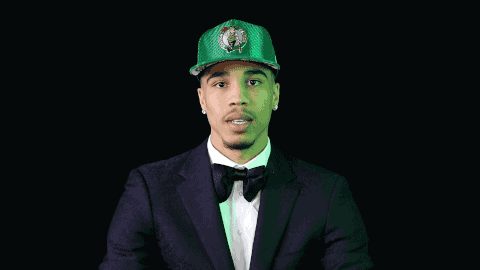 RESULT:
Tatum racked up 33 PRA, which is totally satisfactory. I was right about Rozier being even bigger (43 PRA), but Marcus Smart (who I chose) only got 21 PRA. Strangely, JJ Redick guarded Tatum in this game, which was NOT a good idea. I've read that Covington will likely guard him in Game 2, which is how I predicted it should have been to begin with. Tatum had it way too easy. Brett Brown needs to get it together because the Celts are off to a great start.