Well, my "Bold Predictions" are now at 0-6, but it's only matter of time until I nail one. Could this be the day? It's time to be BOLD!


James Harden will rack up a 30 point triple-double. That means at least 30 actual points scored as well as what would be double digit rebounds & assists. Although "The Beard" hasn't had double digit rebounds or assists in any game so far, he'll come to play in this one to prevent MIN from evening a series they have no business being that competitive in. If Harden gets a triple-double of any sort (even if he falls short of 30 points), I just can't imagine MIN coming out with a "W." It's gonna be raining 3s on the road for Houston & James Harden will be both a gunslinger & facilitator! You heard it here first!

Russell Westbrook will rack up a 30 point triple-double. Nope, you're not seeing double, you're seeing triple-double with my second such "Bold Prediction" of the day! Russ will be out for blood having narrowly missed a triple-double in the first 3 games (after averaging a triple-double this season) & even worse, he let Rubio get one against him last game. Westbrook has vowed to be more aggressive this game & also to shut down Rubio. This is a must-win game for OKC & Russ will handle his business with a big trip-double win or lose.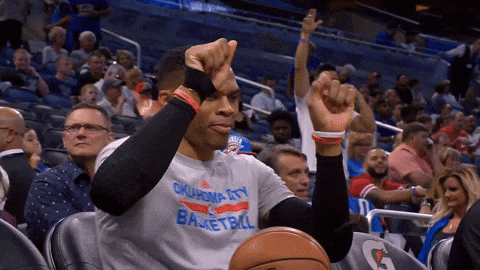 RESULTS:

James Harden started out terrible but then went "Full Beard" in the 3rd quarter, which was the only quarter Houston needed to win this game. Harden ended with 36/4/3 so I ended up right about 30+ points, but the other stats just didn't happen. (Wrong)

Russell Westbrook messed around & got 4 fouls in the first half, which was a disaster for his aggression & triple-double prospects. Even worse, the entire team only had 9 assists! So obviously Westbrook didn't get what the Oracle asked for; however he did end up with a double-double of 23/14/3. (Wrong)

Current Bold Predictions Record: (0-8)