Once again, almost everyone will be rocking Lillard or McCollum for today's slate & there's STILL no shame in that, but there's definitely shame in Portland. The series is all but over & certainly hasn't gone at all as Portland had expected as they're currently down 0-3 on the brink of elimination. For those of you keeping track, that's the same winning percentage as my "Bold Predictions" so far: a big fat zero!
So listen, if you've still got Lillard or McCollum, you've simply got to pick one of them for tonight. However, if you want to take the trail less traveled & go "Against The Grain," the next best pick is
Jusuf Nurkic
. While he's been a non-factor lately, let's face it; the entire Portland team has been a non-factor except for maybe Chief Aminu & they'll let him have his. Of course, he could also be a solid pick, but coming off such a strong game, I just don't see him getting 30 PRA again in this series.
The Blazers picked up Nurkic for a reason & it was to improve the team's competitive chances in the playoffs. It's now or never for this Bosnian bad-ass to show some dominance inside or he may be on the outside come next season. So for all those willing to pay attention, I'm issuing a
Nurk Alert
for tonight's game as I'm betting he knows what time it is...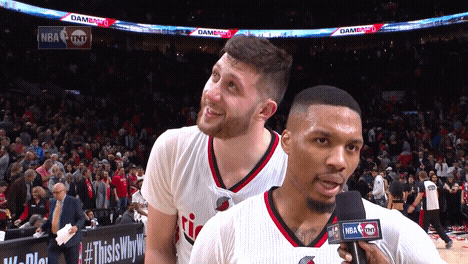 RESULT:
Nurkic rocked 31 PRA as the Blazers were eliminated, which was 1 higher than Lillard this game, while both Aminu (34 PRA) & McCollum (43 PRA) were the better picks. I was wrong about Aminu, but still right about Nurkic as a viable alternative if you either thought the Blazers would win this game or simply had already exhausted their backcourt. See ya later Blazers! It's time for a wild series between GS & NO!