The Brow is the pick of the day for sure & that's completely understandable. I'd be picking him if I hadn't picked him already; however, let's dig into how this pick could potentially go wrong.
Injury Risk: In the previous game, Davis came down hard on his ankle & had a noticeable limp out there. While he'll surely attempt to play big minutes, if that ankle flared up at all / he goes too hard to the basket on offense or defense early in this game, there could be repercussions that limit him in the 2nd half.
Role Players: Davis will always "get his," but that doesn't seem to be the recipe for beating the Warriors in this series. I expect the role players to play much better at home & Davis will need to hold back a bit to allow for them to be more involved. I'm mostly talking about the shooters (Ian Clark, E'Twaun Moore, Solomon Hill, etc) & that includes Jrue Holiday who is yet to really "go off" in this series. Jrue clearly knows big games from AD just aren't going to be enough, so I believe he needs to have a big game today (along with AD) for them to get a win.
Blowwww Outttt: Curry is back & playing without a minutes restriction. With the Warriors' stars in full effect, there's always a risk (even on the road) that they'll blow the opponent out of the building. GS wants to get this series over with as soon as possible & they smell blood. If they're up 20+ going into the 4th, perhaps Gentry doesn't risk having AD overly extend himself, particularly if the ankle or any other part of him isn't 100%.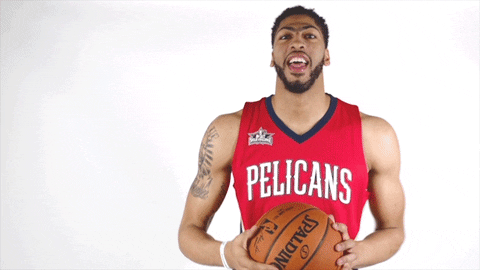 RESULT:
AD got off to a slow start, but really turned it on in the 2nd half for a great 54 PRA outcome. I wasn't able to watch the game, but don't believe there were any injury concerns. The role players I mentioned did indeed get it going (Ian Clark in particular), but clearly didn't affect Davis's ability to go off. The Warriors never came close to a blow out; in fact, it was an essentially a blow-out in the other direction! That was such a big win for the Pelicans, but the only way to really shock the world would be to win Game 4. Can't wait!