Well, my "Bold Predictions" are 0-8 to this point. I think you all know what % that is, LOL. Only one game tonight so let's make it count! And no, I'm not going to roll over & go easy here.
The Celtics will score over 100 points & win by 13 or more points.
That actually happened in Game 2, but that was in Boston & not on the road. The players on this team are patient & professional. They'll get the job done easily in MIL with solid defense & some improved 3-point shooting. Marcus Smart will be a factor once again & I'll finally get a BOLD victory. Right? Right?!?!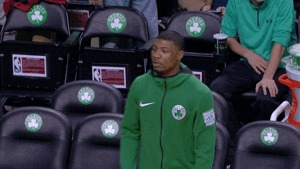 RESULT:
The Greek Freak dominated. The Celtics did not get to 100 & did not win the game. Marcus Smart did nothing special. Couldn't have been more (Wrong)
Current Bold Predictions Record: (0-9)