Almost everyone will be rocking Lillard or McCollum for today's slate & there's no shame in that. Portland lost BOTH games at home & New Orleans is just looking like the better team at this point. Anthony Davis didn't even score in the 4th Quarter of Game 2…
So, what if you think the Pelicans will just demoralize them in Game 3 as they rally around their dominant center who's bound to score in bunches at home? I'm glad you asked. If you're feeling particularly frisky & would like to go "Against The Grain" as nearly everyone else blazes the trail, then it may be time to
Go Gay
& I'm not talking about sexual preference.
Many people feel that the Spurs have a shot to win at least one game in this series & for my money, the best chance for that will be in Game 3 following the untimely passing of Pop's wife. Perhaps this will light a necessary fire to win one for Pop & with assistant coach, Ettore Messina, at helm, the team may be more inclined to tighten the rotation. Rudy Gay came off the bench in Game 1 & put up 23 PRA in limited minutes. He followed that up with 20 PRA (24 PRABS) in over 36 minutes (2nd only to Aldridge) as a starter & the lower stats can be attributed to Aldridge's individual dominance while the team struggled on the road. The Spurs will be much better at home & all indications are that Gay will remain in the starting lineup. They need his offense like I need coffee on a Thursday morning (which reminds me, it's Starbucks time) & it's now or never for his place on the roster to pay dividends for the Spurs.
While I can't truly recommend going Gay if you have both key Blazers still available, if you're willing to swing that way & go contrarian it just might pay off while the rest of us, including myself, go for CJ or Dame who could end up with subpar performances. Then you'd be free to pick your choice or remaining player you have available of the two in Game 4, which could be particularly strategic if you've already chosen one of them prior to this point & know you don't have to miss out on picking either of them if you take the trail less traveled tonight.

Note: If you haven't selected Aldridge yet, he's the better bet contrarian pick, but many of us have, which is why Gay gets the glory here.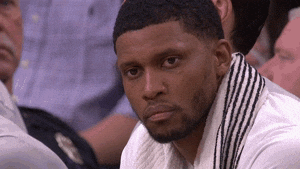 RESULT:
Rudy Gay led the Spurs in PRA at halftime, but did virtually nothing in the 2nd half ending with a mediocre 19 PRA. However, Lillard & McCollum really struggled with only 25 & 26 PRA respectively so the "Against The Grain" approach with Gay was not a failure given you'd still have the POR backcourt available who are bound to produce in Game 4, because ya know, they just have to!!